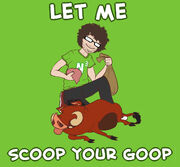 Fan Art, also affectionately known as Danart (a phrase coined on the Nerdcubed Subreddit), allows the members to showcase their talents in illustration and creativity. There has been a large amount of art created based on in-jokes, as well as the members of NerdCubed.
Danartist
Edit
Danartist is a pun name given to those that create Danart.
MissJaffa has been given the flair 'Danartist' on the subreddit and will be seen posting danart on occasion.
On the subreddit there are often small Danart contests hosted by Mattophobia.
The contests usally consist of creating content for the fanservers website
Danart as found on the Subreddit.